Enter a whole new level of efficiency, care, and cost savings


Lytec MD combines the practice management (PM) features of Lytec 2015 with a proven electronic medical record (EMR) that has helped thousands of practices improve quality of care and financial performance. With Lytec MD, you keep the PM you know and add the EMR that can take you to the next level of practice automation.

For offices familiar with Lytec Medical Billing Software or new offices looking to start their practices off on the right foot with an impressive medical billing & EMR program at an affordable price, Lytec MD is uniquely designed to adapt to your way of practicing medicine. With Lytec MD you can get rid of the paper & chart chasing, increase reimbursements and reduce phone calls, decrease waste & inefficiencies, and enhance quality of care and patient satisfaction.

Our unique, stepped EMR implementation approach won't overwhelm you. Training spaced over one to two months allows your office to become accustomed to each step, before taking another, all at a pace tailored to your needs.

---

To learn more please call Advanced Data Management (909) 861-1357 or (909) 967-5670
Uniquely Designed to Make Patient Documentation More Efficient.
Easy to complete progress notes
Unlike other EMR software, Lytec MD features a unique note-centric design that allows physicians to complete the entire chart from the progress note. Any information you add to the note – such as medications, vital sign results or lab results – automatically update the entire chart, all from the note.

Works the Way You Do
Lytec EMR software allows the use of documentation tools adapt to the providers' style and offer a choice of data entry methods including: templates, speech recognition, transcription, digital pen, dictation and Web-based patient data entry.


Delivers quick access to patient information
A provider dashboard lets you view all critical information - including messages, incoming results and a daily patient schedule - in one place. In addition, a review bin provides at-a-glance viewing of notes, documents and lab results.


Efficiently manages orders
Physicians are able to quickly see overdue orders and track each order by patient, status and expected time for a result to return. In addition, incoming results automatically update order status.



Enhance Quality
Supports care plan with built-in evidence-based content
Lytec MD offers easy access to the information you need to ensure exceptional care. An extensive knowledge base includes: Web-based access to hundreds of disease and medication protocols; a broad range of progress note templates covering both primary care and specialty topics, which include guidelines for diagnosis and treatment and care reminders.


Enhances preventive care
Health maintenance protocols based on age, sex, disease, medications or other conditions specific to the patient. Includes disease and medication protocols. All are user configurable.


Builds in extra safety for medication management
Electronic prescribing (via SureScripts® and RxHub®) improves patient safety and speeds new Rx and refill workflow. Physicians and other providers use thousands of Rx templates and a comprehensive database of drug costs and checks - drug interaction, drug/ allergy, drug/disease, drug/diagnosis - in addition to proactive dose advice.


Offers quick data inquiries and reporting
EMR software provides streamlines of reporting for population data management, pay for performance reporting, quality of care analysis, practice analysis, audits, and clinical studies. It easily handles standard queries (e.g. all diabetics who have had an HgbA1C greater than 7.5 in the last six months) as well as complex requests with up to 14 variables.


Delivers Tools to Help You Manage Your Day. Analyze the note with a sophisticated coding adviser for Evaluation and Management codes. Support consultations and time-based CPT coding.
Load transcribed text, and populate the entire patient chart including the problem list, medication list, medical histories and vital signs. Partially dictate a visit and have the transcribed text automatically go to the correct place in the note.
Import and export chart summary data using CCD or CCR formats. Communicate with other practices' EMR software or with the patient's personal health record (PHR).
When importing the data, choose which chart sections to update while still keeping an entire copy of the imported document.
Customized chart viewing by the physician allows providers (and specialty) specific views for charts, chart summaries and flow charts
Other Exciting Features and Add-On Products:
200 Clinical Templates come standard in the software


Specialty Templates including Chiropractic, Podiatry, Orthopedic, and Urology Templates


Clinical Tools includes Drug Therapy Support Databases (drug interaction, dose advisor, drug diagnosis and drug disease checking), Prescription Templates and Clinical Templates (progress note, letter and message templates).


Dragon Naturally Speaking is voice recognition software integrated with Practice Partner that saves physicians lots of money by no longer having to use a costly transcriptionist.


Instant Medical History is an application that allows a patient to enter her complete present illness, review of systems and medical history information prior to the patient visit- either online or at a kiosk in the waiting room.


E-Prescribe (eRx) allows physicians to transmit a new prescription or a renewal directly to the pharmacy electronically. No more faxing or writing out prescriptions or spending unnecessary time filling prescriptions.


Integrated Fax Server allows you to fax anything directly from Practice Partner and even more important- receive faxes electronically so you don't have to scan faxes into the chart.


Practice Partner Research Network (PPRNet) is a practice-based research network facilitating collaborative research among physicians on Practice Partner.


Webview is a patient portal that allows physicians to share Patient Records online safely and conveniently.


Zoom is a document management application easing the scanning process and easily linking documents to patient records.


Take the next step
Start putting McKesson's LytecMD to work for your practice and your patients. To learn more contact Advanced Data Management to schedule an appointment for a demonstration. We look forward to the opportunity to help you better serve your patients.
---
ICD-10 Readiness and More

The transition from ICD-9 to ICD-10 can significantly impact your practice's workflow, and Lytec can help you manage the changes. With Lytec 2015, you can take advantage of several features that are designed to reduce manual entry and minimize the complexity of ICD-9 to ICD-10 mapping. With this release, you will be able to:

Enter ICD-10 codes on your diagnosis list

Set the code version by insurance carrier so you can continue to use ICD-9 codes for carriers who will not have transitioned by October 1, 2015

Receive a notification if the wrong code is used for a carrier

Use a mapping tool based on CMS's General Equivalent Mappings (GEM) to translate some ICD-9 codes to ICD-10

In addition to ICD-10 readiness, when you purchase today you get all the billing, scheduling and patient accounting enhancements currently available in Lytec 2015, including Lytec Mobile. With this no-fee application for the iPad® and iPhone®, you can use your phone or tablet to view your schedule and to transmit charges, diagnosis codes and notes to your front desk or biller.

ONC-ATCB Certification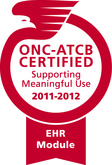 McKesson's Lytec MD 2011 is 2011/2012 compliant and was certified* as a Complete EHR on December 6, 2010, by the Certification Commission for Health Information Technology (CCHIT®), an ONC-ATCB, in accordance with the applicable certification criteria for eligible providers adopted by the Secretary of Health and Human Services.
*The certification number is CC-1112-589589-1. ONC-ATCB 2011/2012 certification conferred by CCHIT does not represent an endorsement of the certified EHR technology by the U.S. Department of Health and Human Services nor does it guarantee the receipt of incentive payments. The 2011/2012 criteria support the Stage 1 meaningful use measures required to qualify eligible providers and hospitals for funding under the American Recovery and Reinvestment Act (ARRA).

The clinical quality measures to which Lytec MD 2011 has been certified include: NQF 0421, NQF 0013, NQF 0028, NQF 0041, NQF 0024, NQF 0038, NQF 0059, NQF 0064, and NQF 0061.
---